Radiokupol
The Radiocupol+ consists of two parts – digital and analogue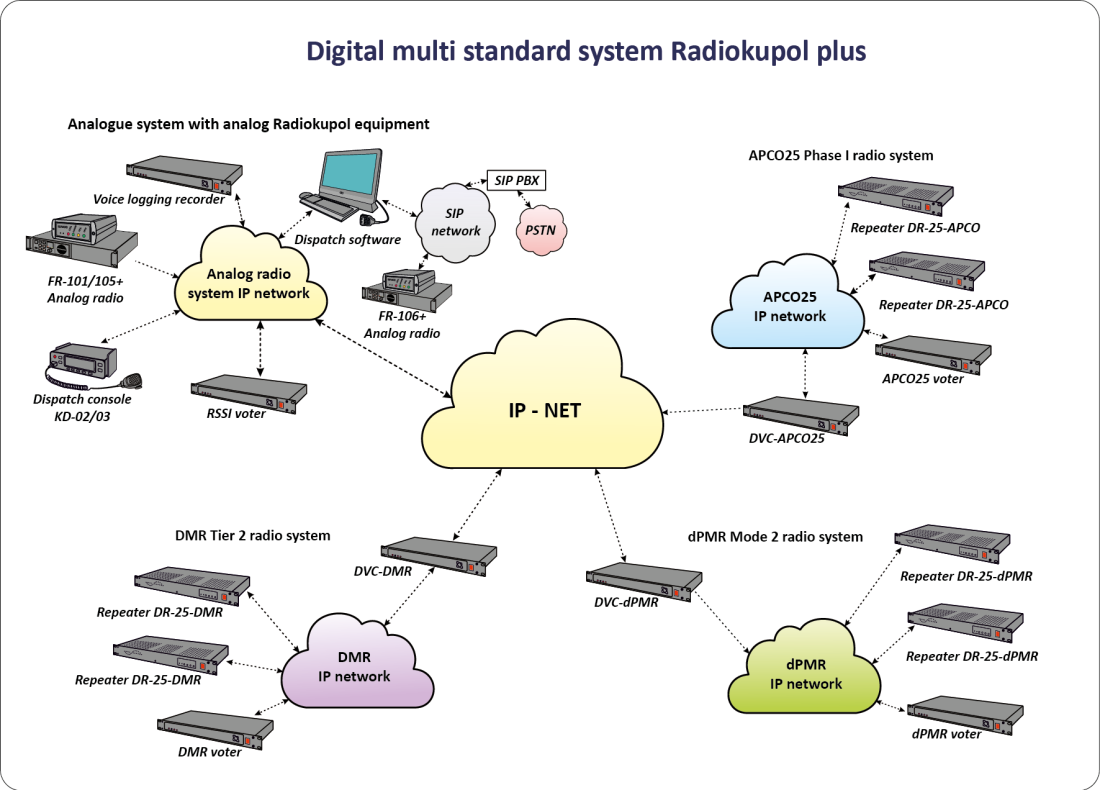 The digital part consists of three different kinds of DR-25 repeaters supporting either APCO 25 Phase I Conventional, dPMR Layer 2 or DMR Tier 2 digital standards. Changing from one standard to another can be done remotely by entering a special code. Different standards interconnect is done using a special IP-device called DVC-xxx where xxx stands for corresponding standard. Changing DVC standard can be done as well – special engineering qualification of local distributor is necessary. DVC also provides full compatibility with analogue part of the system.
The analogue part of the system makes use of RoIP gateways, application-oriented software developed by our company and two modifications of IP-consoles, specially designed after our vast experience with installation in small Russian police dispatch centers.
The development is based on a 20-year experience in solving specific radio communication tasks, as well as on the investigation into the world experience and equipment including that in the laboratory.
RoIP (Radio-over-IP) gateways connect to practically any radio, digitizes all the audio signals received from the radio (two throughput COM-ports are available as well) and sends the received packets to an IP-network. The application-oriented software, depending on the purpose, processes these packets at the output, and using the same base stations (repeaters) and dispatcher software (as well as KD-0x IP-consoles) including those operating on RoIP (Radio-over-IP) protocol, integrates users into a single communication network.
The entire software is based on Java which makes the hardware and system configuration flexible.
Types of gateways produced:
Model

Tasks

Solutions

FR-101
RoIP gateway

Receive/Transmit, digitizing and compression by several ddiffferent vocoders, external control COM ports. One IP connection
Propriety exchange protocol, NXU-2A protocol support

Simplest solutions, switching

FR-106
RoIP gateway

Receive/Transmit, digitizing and compression by vocoder, external control ports.
SIP protocol support

Access to telephone SIP- network, interfacing SIP-devices

FR-104
RoIP gateway

Same as FR-101 plus:
- digital gateway with RSSI support;
- 5 simultaneous IP connections

Complicated solutions with a voting feature
Types of software and consoles produced:
Software

Designation

Tasks

"Dispatcher" software
Multichannel software with the possibility of connecting third-party SIP-gateways
Integration of base stations into groups, access to telephone and other networks
"Voice logging" option
Multichannel logging related to the base station, group, etc.
Spatial diversity for the logging recorder and users with limited rights
"Dispatcher - switching" option
On-line switching and fixed routing of radio networks
Flexible
"Voting" software
Works only with FR-104. Selection of the best receive signals (so-called "voting"). Voting server (provided this server is used) can accept all system devices
Voting server (provided this server is used) can accept all system devices

KD-02/03
RoIP consoles

1/5 channel IP-consoles with the "mobile radio like" user-friendly interface
Proprietary development based on a wide experience in implementation and operation of the system in 15 regions of Russia. No equivalents in the world
All firmware are of Russian origin confirmed by the relevant Certificates.