PSC-2-15 Power Supply Controller
The Controller converts any reliable power supply source into a UPS for radio equipment.
Application
KP-2-15 Power Supply Controller provides power supply for various radio engineering equipment with the voltage of 12 to 14 VDC, with the current consumption up to 15A. Output voltage is fed to three pairs of terminals, two of which can be disconnected when either temperature threshold is achieved or by applying an external command via RS-232 port.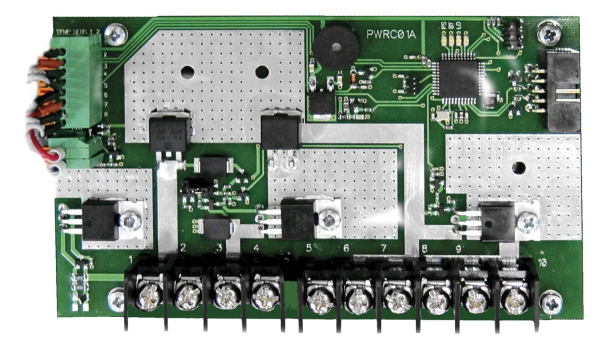 Specifications
| | |
| --- | --- |
| Parameter | Value |
| Input voltage form power source | 12 — 15 V |
| Backup voltage source | 12 V, 7.2 Ah battery |
| Battery charger | available |
| Disconnection of battery from backup circuit without removing the terminals | available (using a jumper) |
| Number of power supply outputs | 3 |
| Output voltage | 12 — 14 V |
| Maximum output current | 15 А |
| Temperature sensors connection ports, type TS | 2 |
| Fan port | 1 |
| Switchable temperature profiles | 2 (using jumpers) |
| Audio announcement of controller operation modes | available |
| Controller control via RS-232 interface | available |
| ALARM signal | Output OK, across external connector |
| BAT_LOW signal | Output OK, across external connector |