FR-100 #4 Gateway
FR-100 #4 is an advanced version of FR-100 #1.
Up to 10 simultaneous IP-connections of any topology.
Capable of working in multicast mode in networks that do not support the given mode on their own.
Allows measurement and transmission of the receive signal (RSSI) over IP-network.
When transmitter coverage zones overlap, use can be made additionally of a special Voting Server (optional) to collect all such signals, determine the best one and retransmit it to all base stations connected via FR-104 gateway. In case IP-communication with the Voting Server is lost, the gateway switches to the independent local repeater mode. Analysis of information on the signal received by different base stations is ensured continuously to provide seamless handover of a fast moving subscriber.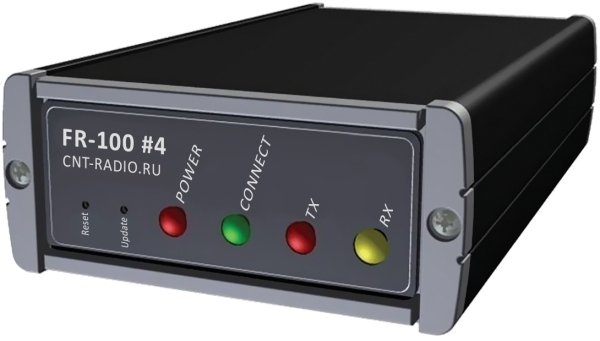 Application
Radio remote control
Integration of up to 10 radio communication zones into a single network (with a possibility of overlapping coverage zones)
Capable of switching several different radio communication networks without using "Switching" software module of the "Dispatcher" software.
Provides continuous radio coverage for highways and complex infrastructure sites. In case of a highway, it is sufficient to have three nominal frequencies – one for reception, and two alternately for transmission
Compatibility
Software: SINDIS FR-SF, "Dispatcher" software, "Switching" optional module
IP-devices: FR-100 #1/#6 Votinger Server, Remote Voice Logging Recorder, DVC
Specifications
Parameter
Value
Parameter
Value
Audio input impedance
Balance input, 10 kOhm
Output type
Open collector, voltage elevation to +5В/100 mA
Input level at THD not more than 0.1%
from 100 mV to 2 V
Interface type
Ethernet, connector RJ-45
Audio frequency range
20Hz – 3600 Hz
Protocols
TCP, UDP, IP
Output level at THD not more than 0.1%
from 100 mV to 2 V
Audio codec
g.711 uLaw, GSM 6.10 FR
Audio output impedance
400 Ohm
Setup/Configuring
Web, telnet or RS232
Input impedance of COR, AUX0, AUX1, AUX2 inputs
47 kOhm
Connector to connect to radio
DB26, female
Switching voltage
2.5 V
Supply voltage
12 V +-4 V, current not more than 0.5 А
Protection
up to 10 V