FR-100 #1 Gateway
FR-100 #1 is a simple RoIP-gateway for one IP-connection.
Two through COM-ports for local devices control.
Supplied with SINDIS FR-SF free control software.
Connects via radio's audio input/ouput to work with practically any radio (see Appendix B).
Two PTT operation modes: COR and VOX
RoIP-gateway is setup via a web-interface or a command line prompt (telnet or RS232).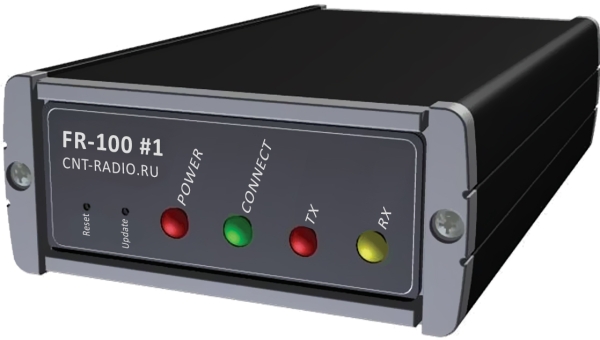 Application
Radio remote control
Integration of two radio communication zones into a single network (without transmitting of group calls)
Switching of several radio communication networks using "Switching" software module (an option for the "Dispatcher" software)
Compatibility
Software: SINDIS FR-SF, Dispatcher software, "Switching" software optional module
IP-devices: FR-100 #4, DVC
Specifications
Parameter
Value
Parameter
Value
Audio input impedance
Balance input, 10 kOhm
Input impedance of COR, AUX0, AUX1, AUX2 inputs
47 kOhm
Input level at THD not more than 0.1%
from 100 mV to 2 V
Switching voltage
2.5 V
Audio frequency range
20 Hz – 3600 Hz
Setup/Configuring
Web, telnet or RS232
Output level at THD not more than 0.1%
from 100 mV to 2 V
Output type
Open collector, подтяжка к +5В/100mA
Audio output impedance
400 Ohm
Interface type
Ethernet, connector RJ-45
Connector to connect to radio
DB26, female
Protocols
TCP, UDP, IP
Switching voltage
2.5 V
Audio codec
g.711 uLaw, GSM 6.10 FR
Protection
up to 10 V
Supply voltage
12 V +-4 V, current not more than 0.5 А
Power supply connector
Coaxial Jack 2.5 mm, «+» in the center