Continuous coverage of a long-mileage site (highway)
Mission
Provision of robust radio communication along the entire highway.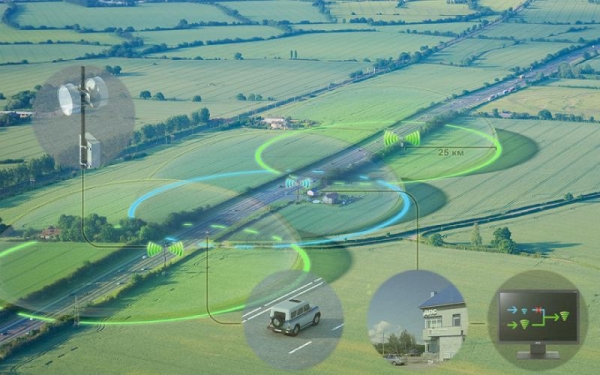 Radio coverage of long-mileage sites using 3 different frequencies
Solution
The highway span is provided with repeaters communicating via an IP-channel using RoIP (Radio-over-IP) controllers. Semitransparent domes stand for repeater coverage zones, whereas different colors are used to designate different transmission frequencies. In this case, two adjoining repeaters always transmit on different frequencies. The receive frequency is the same for both repeaters.
Subscriber radios operate in scanning mode for two frequencies, while transmit on the one and the same frequency which is the same as that of the repeaters receive frequency.
In case if the signal from a subscriber radio is received simultaneously by two adjoining repeaters, the received signals are transmitted via an IP-network to the voting server running on the "Voter" software.
The server compares these signals, and the best one is sent to all repeaters along the highway. Thus, a robust voice communication is provided for all subscribers located within the repeaters' coverage zone.